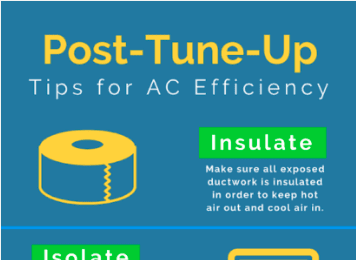 It's Time For An AC Tune-Up!
As the weather warms up, folks are revving up their air conditioners and discovering that they probably shouldn't have skipped that seasonal maintenance last year. Subpar performance now is a sign of more significant trouble to come. This is an ideal time to get your cooling system all tuned up and prevent an epic breakdown when the summer heat hits hard.
But why should you get a tune-up? Here are three great reasons!
Efficiency
A tune-up is essential to keeping your air conditioner performing its best without spiking your electricity bills. If your unit doesn't seem to be running its best, an AC tune-up will probably be in your best interest. Efficiency is the most crucial aspect of an air conditioner outside of its functionality. Keeping it in top-notch condition is a great way to stay cool this summer.
Prevention
By getting a tune-up now rather than later, your air conditioner will require far fewer repairs in the future. Repair costs add up fast, and you'll inevitably regret not taking the initiative earlier. If you've ever had to reach out for emergency repairs in the middle of the night or had to unexpectedly budget for a system replacement, you understand how important our air conditioner maintenance services in Salt Lake City really are! Contact us to ask about our planned maintenance agreements; we promise you'll be glad you did.
Longevity
As we suggested in the last section, getting a tune-up will help keep your AC in great shape for a much longer period of time. Better efficiency means a longer lifespan and lower energy bills right now. We call that a win-win! Having to spring for a new cooling system is far more expensive than routinely maintaining your unit with tune-ups, so there's really no reason to skimp on maintenance. Scott Hale guarantees your satisfaction on every job we do, so give us a call and get your AC checked out by our team of professionals today.
Still Not Sure?
Our AC tune-up services in Salt Lake City are essential for keeping your air conditioning system in the best shape possible so you can stay cool on hot summer days. After your tune-up, we've got some great tips for increasing your AC's efficiency in the hottest of weather conditions.
If you have any questions or concerns about your air conditioner, don't wait. Contact Scott Hale Plumbing, Heating & Air today and learn what we can do for you.